Parents are able access Maths Pathway using the same log in details as their child. They can either get this information from their child directly or ask the teacher for it.

Once logged in as their child, they instantly have access to information about their child's overall level and their latest test results.
There is also a specific Parents and Carers Portal which is specifically designed for parents to have additional access to important information.
To access the Parents and Carers Portal, simply log in as your child and click on the "Parents" button in the top right corner of the screen.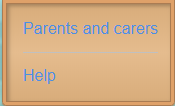 For more information on what's in the Parents and Carers Portal, see this article.